January 5, 2017, 12:11 PM EST
Congratulations to the 'Working Forward Small Business Award' Winners!
Abstract:
Strong, healthy small businesses can have a big impact on the communities they serve. Because we want to see small businesses succeed, Synchrony Financial is pleased to present the Working Forward Small Business Awards. The awards are designed to help our partners succeed in building both their businesses and local communities. Winners of the Awards will each receive $20,000—$10,000 to help grow their business, plus an additional $10,000 to use toward bettering their community.
Congratulations to our winners and their communities, which represent a spectrum of Synchrony Financial partners: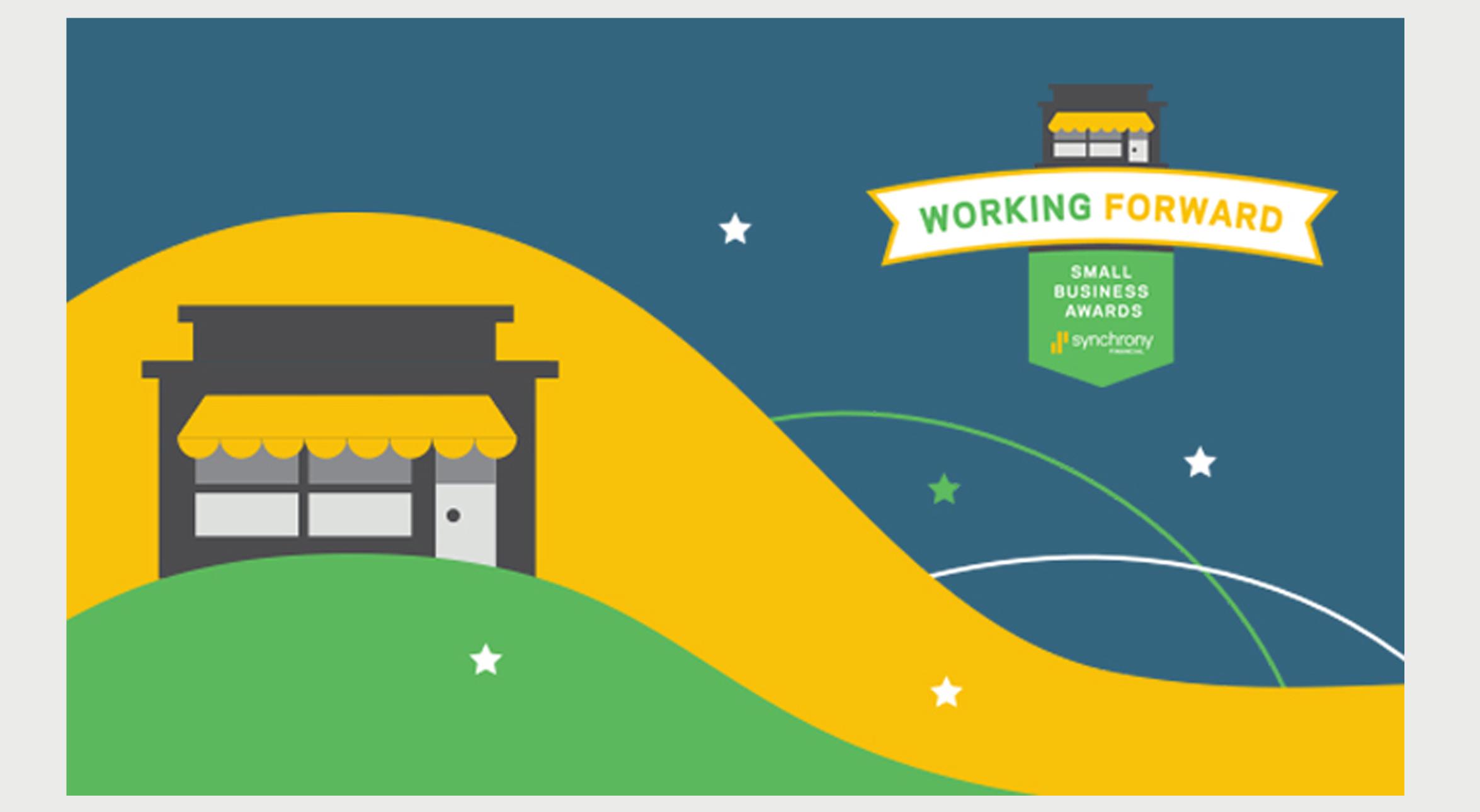 Synchrony Financial, which partners with thousands of small businesses nationwide to offer financing programs for their customers, has found that many companies don't have access to resources they may need to grow their business. At the same time, these businesses are frequently asked to support local initiatives and community projects through sponsorships, donations and volunteerism—sometimes at great expense. The Working Forward Small Business Awards gives these winners the unique opportunity to invest in strengthening both their business and their community. Over 1,100 entries were received during the contest period. A panel of judges determined the winners based on the criteria outlined in the Contest Official Rules.
Contest entrants—partners of Synchrony Financial's Payment Solutions business platform with less than 30 full-time, year-round employees—were asked to submit responses to questions including:
• What makes their business unique and why customers choose to do business with them
• Their greatest challenge
• The impact $10,000 would have on their business
• How they would use $10,000 to make their community a better place to live, work or play
Congratulations to our winners and their communities, which represent a spectrum of Synchrony Financial partners:
Country Stitches, Ltd.
East Lansing, Michigan
Owners: Anita Covert, Ann Covert Fuller and Brian Ladson
Business Plans: Improve their sewing business's website and social media presence to keep up with rapid changes in digital commerce.
Community Plans: Support an annual project that provides quilts for the homeless and veterans. The quilt project also helps refugee women in the community learn how to sew, a skill that can help them provide clothing for their families and build self-esteem.
Bryson City Bicycles
Bryson City, North Carolina
Owner: Diane Cutler
Business Plans: Establish an e-commerce platform that enables online shopping for customers.
Community Plans: Purchase and donate a fleet of mountain bikes for the local high school, where many families cannot afford bicycles, as part of an outdoor recreation program.
Cincinnati Transmission Specialists
Cincinnati, Ohio
Owner: Richard Lamping
Business Plans: Provide new equipment and training to staff and technicians to help stay ahead of advances in technology.
Community Plans: Donate funds to The Lamplight of Hope, which raises money and necessities for families affected by illness, disability and other hardships. The donation will further help the organization's goal of establishing a resource storehouse with medical equipment and household goods available to families in need.
Cliff's Carpet One
Latrobe, Pennsylvania
Owners: Kristy and Kevin Ridilla
Business Plans: Rebrand their business to "Cliff's Flooring Solutions" to more accurately reflect the many floor coverings offered by the business.
Community Plans: Donate funds to a local center that helps babies born addicted to drugs. The center provides support, care and counseling for the babies and their mothers.
Downtown Auto Specialists
Spokane, Washington
Owner: Ken Wanless
Business Plans: Purchase equipment and provide training for employees to keep up with rapid changes in the industry; as well as remodel the store's waiting and reception area to reflect the business's dedication to state-of-the-art technology.
Community Plans: Establish a scholarship fund for children of fallen service members from a nearby military base that would allow them to learn a skilled trade, such as auto repair or plumbing.
"We were so moved by the response to this contest, and by the passion that our partners have in wanting to make a positive impact on the people in the communities where they do business," said Glenn Marino, executive vice president and CEO, Payment Solutions, Synchrony Financial. "These stories were inspiring, and truly shined a bright light on the importance of small businesses in local communities and the commitment these owners have to improving lives, a value also shared by Synchrony Financial in our Purpose Statement. We applaud not only the winners, but small businesses everywhere that are quietly making a difference. Congratulations to these business owners; we hope the award helps their business grow and stay relevant for years to come."