November 10, 2015, 3:17 PM EST
Customized Offers: Deeper Connections via Data
Putting the Custom in Customer
Abstract:
Consumers today are bombarded with a plethora of marketing messages. Retailers and businesses should invest time and energy on creating offers that resonate, so they can establish a deep connection with them and establish brand loyalty.
Sanjay Sidhwani, SVP of marketing analytics at Synchrony Financial, and author and retail analyst Hitha Herzog discuss how retailers can establish deeper connections with their customers.
Article: Customizing to The Customer
American customers say that when it comes to deals, retailers may not be getting very personal with them—even though most customers say they enjoy getting customized offers.

That's according to a new Ipsos poll, commissioned by Synchrony Financial in conjunction with Reuters Content Solutions, which surveyed 3,024 adult Americans and found that 43 percent said they received few or no customized offers from retailers.

Even though Americans say they aren't getting a lot of customized messages, over half—55 percent—indicated they don't necessarily want more messages targeted to them. But there's little denying that kind of marketing works.

The key is to know how often customers want to be communicated with. "For marketers, it is a balance between providing the offer at the right time and avoiding over-communicating especially through lower-cost channels such as email," says Sanjay Sidhwani, SVP of marketing analytics at Synchrony Financial.
Fifty-four percent of customers who already receive customized messages indicated they were more likely to buy from vendors who interacted with them via targeted marketing.

"As the retail landscape has evolved, we've seen a shift among shopper behavior in which they increasingly prefer personalized communications versus generalized offers from retailers," says Katie Twohy, vice president of global marketing for the retail analytics firm ShopperTrak. "Online to offline is blurring into a single experience, and retailers should leverage big data to offer customized communications that meet shoppers' changing needs and ultimately drive sales."

There was more good news for marketers. Many shoppers–59 percent–also had positive feelings about receiving custom offers from the places where they shop, compared to 39 percent who do not enjoy the experience.
But many consumers may not even recognize customized messages, says consumer psychologist Kit Yarrow, who notes that some may not realize their shopping patterns are being tracked.

"Frankly, a lot of the time they don't want to know," says Yarrow, a Golden Gate University lecturer and the author of Decoding the New Consumer Mind.

Synchrony Financial's Sidhwani understands the tremendous focus that retailers place on delivering the right offers at the right time. "Executing truly personalized offers takes significant investment in collecting data, generating insights at a micro-segment level and operationalizing those insights into marketing offers via email, mobile or even direct mail."
Source: Online research commissioned by Synchrony Financial in conjunction with Reuters and conducted by Ipsos, 8/26-9/1, 2015.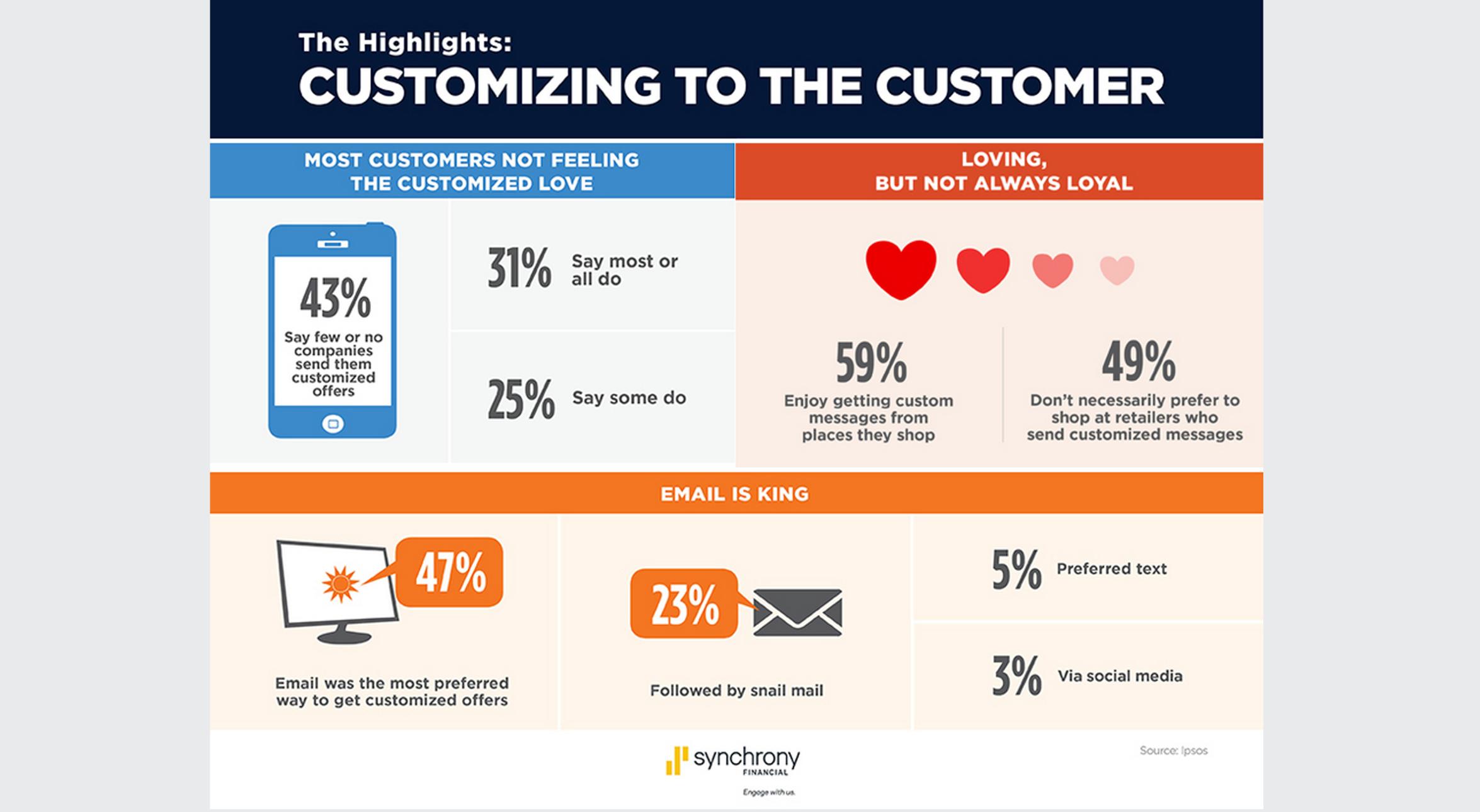 Customization That Works
Among other results, the online survey also found:
Email and "snail mail" still reign as the most effective delivery methods for "especially for you" offers.
Shoppers like hearing about discounts.
Persuading consumers to give feedback is not an easy task.

As for the types of customized messages that hit the sweet spot? Perhaps unsurprisingly, discounts are king.
Sales on specific items trumped all other kinds of alerts, with 60 percent saying they appreciate such offers more than any other kind of marketed outreach, compared to other alerts such as:
Exciting news/announcement" (25 percent)
Savings tops (21 percent)
Customized fashion tips (7 percent)

Half of the survey respondents also favored getting a heads-up about future sales on merchandise they might be eyeing, as well as information about rewards, points and miles.
Far less popular were requests for feedback. Only 9 percent of customers most preferred those kinds of solicitations. The lesson for marketers? Yarrow says retailers need to incentivize the feedback process so consumers get some kind of benefit in exchange for their time.
Traditional Channels Still Valued
Marketers might also find it helpful to know that even in the age of digital and online social engagement, some tried-and-true outreach channels remain useful and effective.

"Even though younger consumers are less enamored with email, it feels more controllable and less intrusive," says Yarrow. "People can delete messages before they even open them, whereas text messages are very personal, so a text better be relevant, or it's bugging me."

In-store deals, via a salesperson, were favored by just 9 percent, while 5 percent liked getting a text on their mobile device and just 3 percent viewed in-store push notifications on their devices as worthwhile motivators to spend.

Even so, there's one rather antiquated method of receiving special offers that appears to be dying. Only 1 percent of respondents said they were likely to go to the store based on a marketing phone call.