January 13, 2017, 11:44 AM EST
Fifth Annual Major Purchase Consumer Study
DOWNLOAD
Author
Ronda Slaven
Vice President, Research & Insights Leader
Abstract:
By studying the journey consumers make when deciding on major purchases of $500 or more, Synchrony Financial measures and reports on behavioral and attitudinal trends. For the fifth year in a row, Synchrony Financial has collected data from shoppers across these 14 different product categories:
Eyewear, Jewelry, Powersports, Furniture, Appliances, Home Improvement, Auto Parts, Service & Tire Outdoor Power Equipment, Fitness Equipment, Flooring, Electronics, Sporting Goods, Music Equipment and Sewing.

Consumer Attitudes
Deal orientation continues to increase.
• Deal orientation was higher in 2016.
• The prevalence of online content and information is one key driver of this change.
Shoppers remain cautious about how they spend their money but see value in financing their purchase. 90% of Synchrony Bank cardholders feel financing makes their large purchases affordable. 88% of Synchrony Bank cardholders are comfortable financing through a retailer credit card.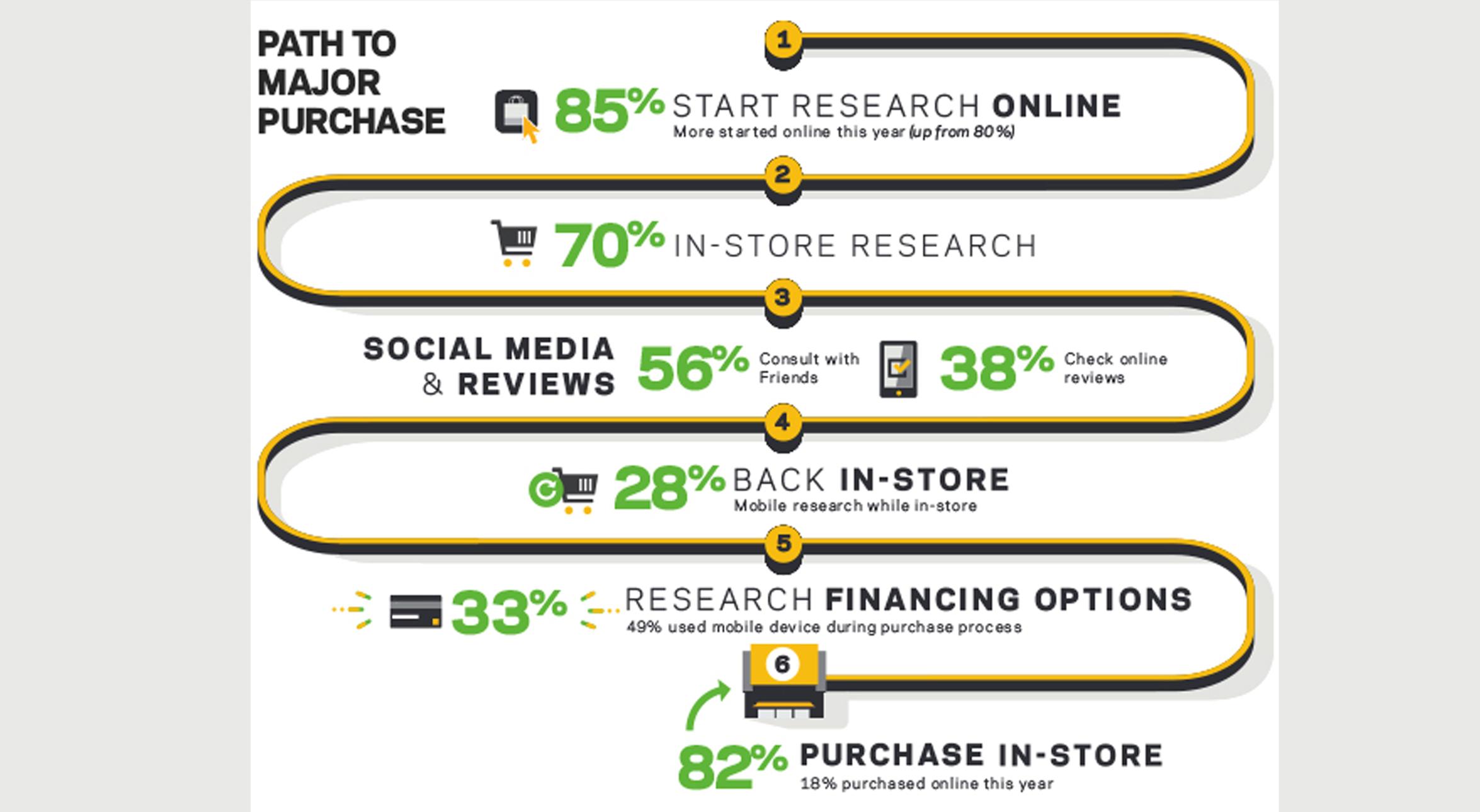 Consumer Behavior

Online shopping and online buying have significantly increased this year. 18% make their major purchase online (up from 13% in 2015). 85% started their research online (up from 80% in 2015).
Shoppers are being more decisive. The number of days spent researching their purchase dropped from 68 to 63 days.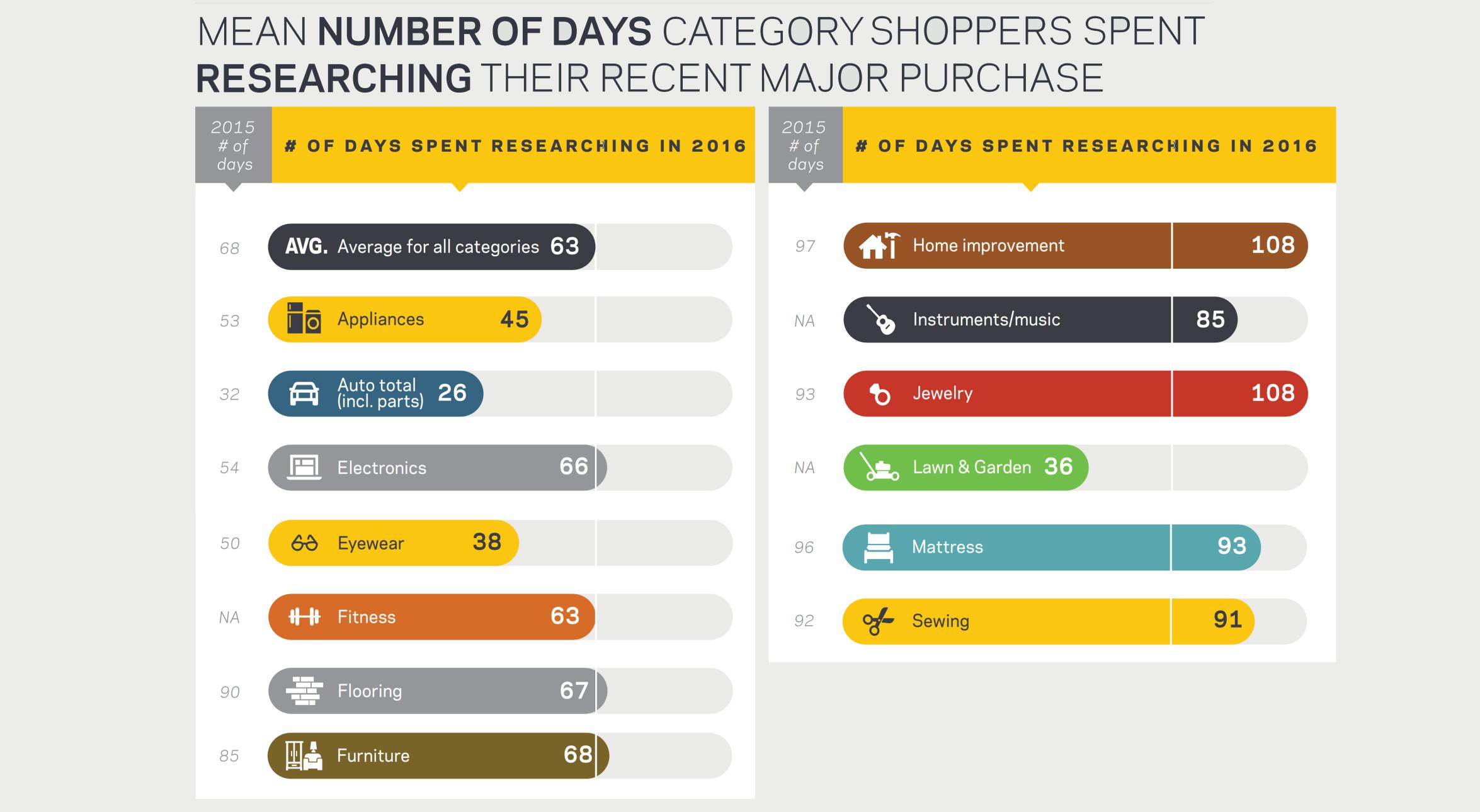 Primary Decision Drivers
Retailers did a better job in 2016 of making shoppers aware of financing options. 43% of random shoppers were aware that financing was available (36% in 2015). 47% of SYF cardholders say they might not have made a purchase or shopped at a competitor if financing was not available. Synchrony Bank cardholders reported spending $513 more, on average, than non-cardholders.
Synchrony Bank cardholders choose retailers that:
• Have the product(s) they want (75%).
• Offer promotional financing options (71%).
• Stand behind the products they sell (78%).
Key Trends Summary
1. Deal orientation continues to rise.
Recommendation: The consumer value equation includes much more than just price. Value includes price comparisons, consumer reviews, and cost of shipping/delivery/installation, as well as quality. Retailers need to ensure their communications include a total view of value.

2. Online shopping and online buying have significantly increased.
Recommendation: As the digital channel continues to play a more prominent role in the shopping journey, retailers should consider strategies that increase their online presence, through search engine marketing and website optimization. Shoppers are looking for a seamless shopping experience where they can research and purchase through the retail website.
3. Shoppers are being more decisive.
Recommendation: As shoppers become more decisive, they are visiting fewer retailers before making their purchase. Because of this it is even more important that retailers demonstrate value early in the sales process and serve up detailed information through both online and offline channels.
DOWNLOAD