March 15, 2016, 2:44 PM EDT
The Makings of a 'Good' Purchase
Abstract:
At first glance, discount retailers and high-end designer brands may appear to have little in common. A closer look finds these retailers are more aligned than one would think, with quality and value being top of mind for shoppers.
Poll: Price, quality, and usefulness are key factors for a great purchase
It may sound simple, but according to a recent poll conducted by Ipsos on behalf of Synchrony Financial, consumers are ultimately a practical bunch and consider reasonable price, quality and usefulness as the most important factors when making a "good purchase."

The poll, which surveyed 3,000 U.S. adults, showed nearly 30 percent consider product quality the No. 1 factor when shopping for themselves, while only 2 percent valued exclusivity.

"These results resonate with our experience," says Priti Khare, the director of public relations for San Francisco-based Ebates Inc., a company that provides online cash back shopping services. "Most shoppers choose to embrace and patronize shopping options that have repeatedly delivered the best quality at the best price."

Consistent quality and value are the foundation of Ebates' success. Ebates rewards consumers with cash back on purchases while also providing access to thousands of coupons, discounts, promotions and special deals, including free shipping, at over 1,800 retailers. Since its founding in 1998, the company's websites have paid back more than $325 million in cash to its members. "Consumers keep coming back to Ebates because they know they can count on a simple, hassle-free shopping experience that gives them access to the best deals and discounts in addition to paying them cash back for every purchase," Khare says.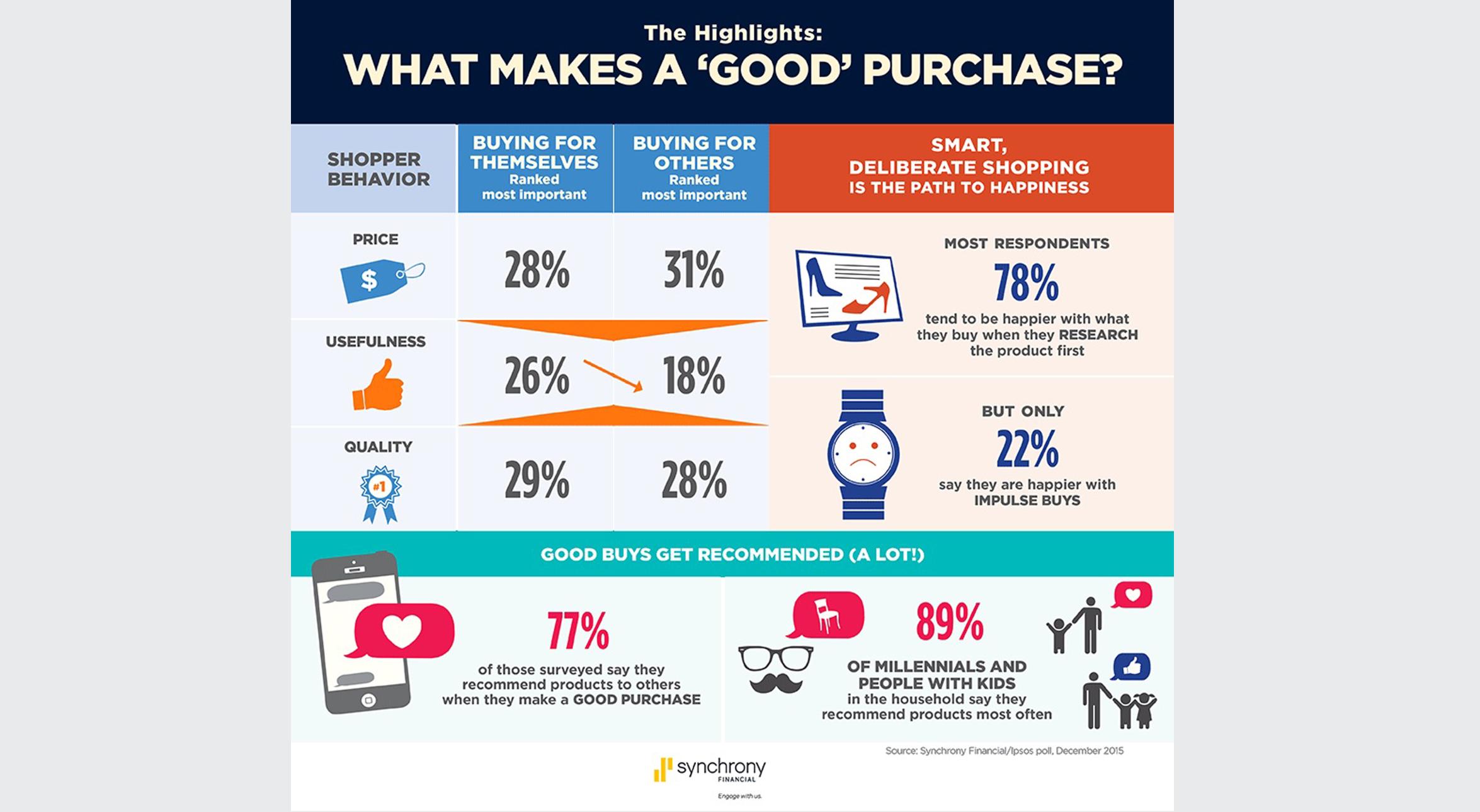 "Rules"To Be Broken
When do these tendencies not necessarily apply? That depends on a brand's ability to serve as a channel through which consumers can form their aspirational identity, according to the experts.

"It's really about the brand and what it means to have a relationship with that brand," says Steve Jacobs, chief product officer and head of growth marketing at New York-based Gilt Group, an online shopping site that offers discounted designer brands.

"It's about being part of a group that knows that this particular handbag, for example, connotes something about who I am when I'm carrying it down the street," he says. "The handbag says something about you, and that's part of what you're paying for."

Gilt's active members – typically female, in their late 20s to early 40s, living in metropolitan areas and not married – like to discover new luxury brands but obtain them at a relatively 'good' price.

However, consumers have a complicated relationship with the idea of exclusivity.
"When customers think about products, or tell companies what they want, they are often thinking with their aspirational selves," says Cindy Alvarez, author of "Lean Customer Development: Building Products Your Customers Will Buy."

Alvarez says consumers tend to "talk about exclusivity or extra features," but these factors hardly reflect how one will realistically go about using a product.

"But the truth is, the majority of the time we're distracted and busy and using products as the means to an end. It's critical for the people who build products to understand their customers' end goals and to build a product that helps them reach those goals as easily as possible."
All Shoppers The Same?
The Synchrony Financial-sponsored poll included a diverse set of respondents. Despite this variation, the research showed that regardless of demographic, the majority of people have similar utilitarian shopping priorities. It is particularly interesting – and unexpected – to find this uniformity of shopping behavior to resist demographic variation.

Millennials, often seen as technology devotees, said they buy a product primarily for its practicality and less for the satisfaction of having the latest technology. They have more in common with baby boomers, in fact, than retailers may presume. Only seven percent of adults, ages 18 to 34, said they wanted the newest gadget, and only 1 percent of adults over 55 felt this way.

One instance where usefulness is less prioritized in shoppers' minds is when they are buying for others. For example, 18 percent of shoppers said they care about a product's usefulness when buying for a loved one, which is 8 percent less than the proportion of shoppers who prioritize utility when buying for themselves. The disparity, which should be noted by retailers and marketers alike, may be explained by consumers' desire to impress or pamper those they treasure: the splurge factor is stronger for gift givers than people who are buying just for themselves.

Ultimately, while usefulness, price and quality are the most important factors retailers should consider when targeting consumers, Ebates' Khare says there are also customer service strategies that are critical to success.

"Providing users a range of choice and real incentive to purchase definitely encourages customer loyalty… it is [also] important to make the shopping experience simple and pain-free. Finally, customers should walk away feeling they got the best product at the best price and knowing they will have access to reliable and responsive customer service if needed."

In the end, consumers need to "feel" they're getting something at the right price to "feel" good about it. That doesn't mean it's cheap or on sale, simply that it creates the connection between the heart and the mind: getting what you want and knowing you didn't pay too much for it.